The final part of this adventure involves me going to a temple thinking it would be pretty meh and then saying to the world it was 'slightly above meh'. However I was pleasantly surprised how interesting this temple was.
.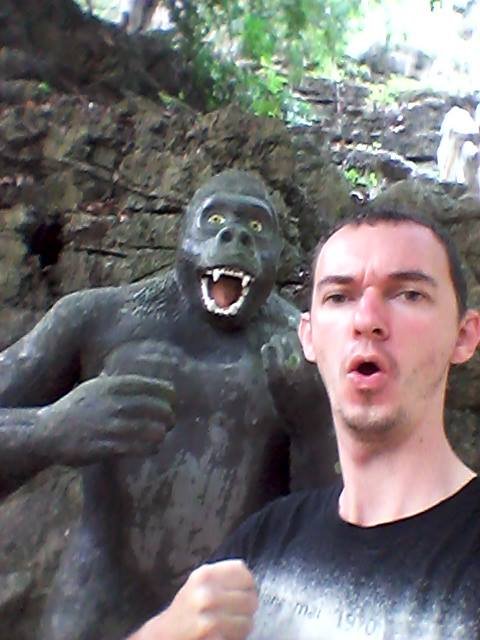 Strictly speaking, this isn't your traditional temple of a big building made of gold and with typical Asian architecture. Wat Thamtapan is more of a holy building with multiple sculptures of animals and deformed humans. The story behind it (As in: 'What my mum told me'…) is that the temple is split into two parts; heaven and hell. And I assume was built to deter people from murdering each other with machine guns or hip hop dance moves…
.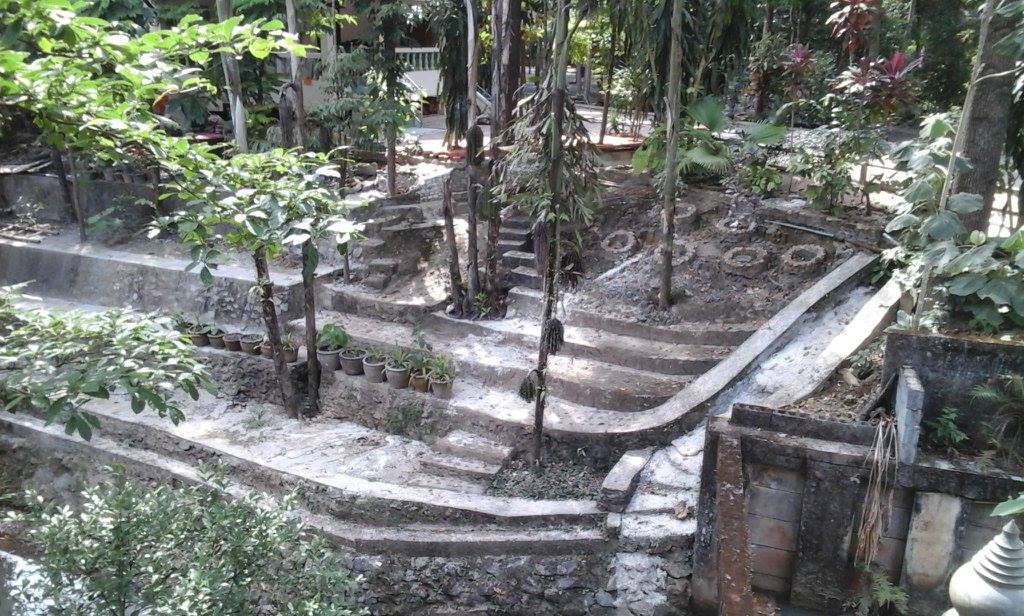 So I went off to explore the temple. As I walked in I wasn't expecting much. Then again, that is normally the best way. You normally get disappointed the most when you expect something to be good, then are disappointed to find out it isn't the best place you've ever been to (The Taj Mahal is a prime example of this: Sure, it's majestic, but you expect it to be the best thing you've ever seen in your life because you've built it up. But when you see it even though it is beautiful you can't help but feel a little bit disappointed.).
So I expected little, went to explore anyway in case I was wrong and saw this:
.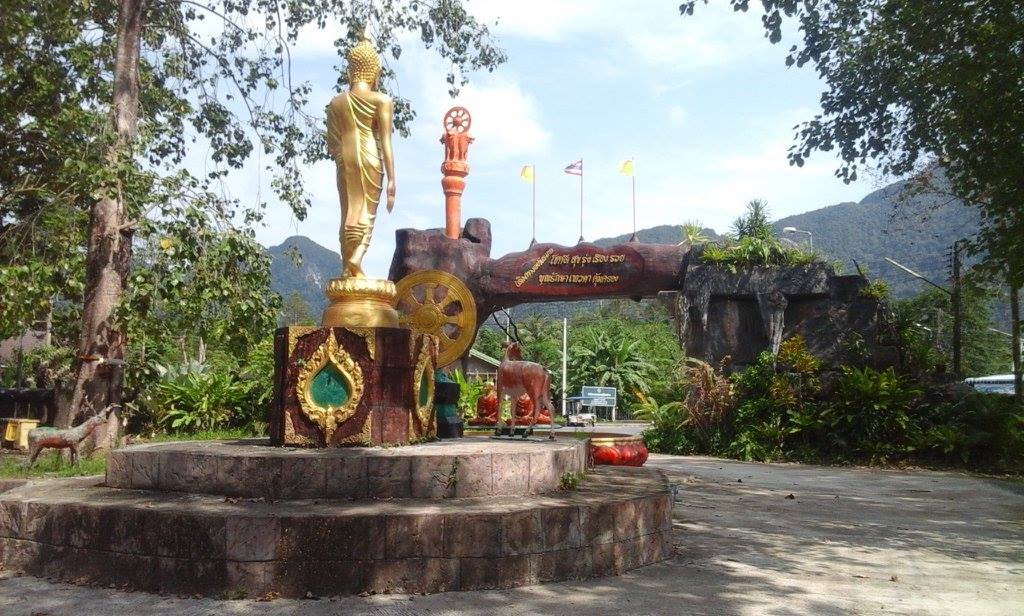 BOY, I LOVE IT WHEN I'M WRONG!!!
.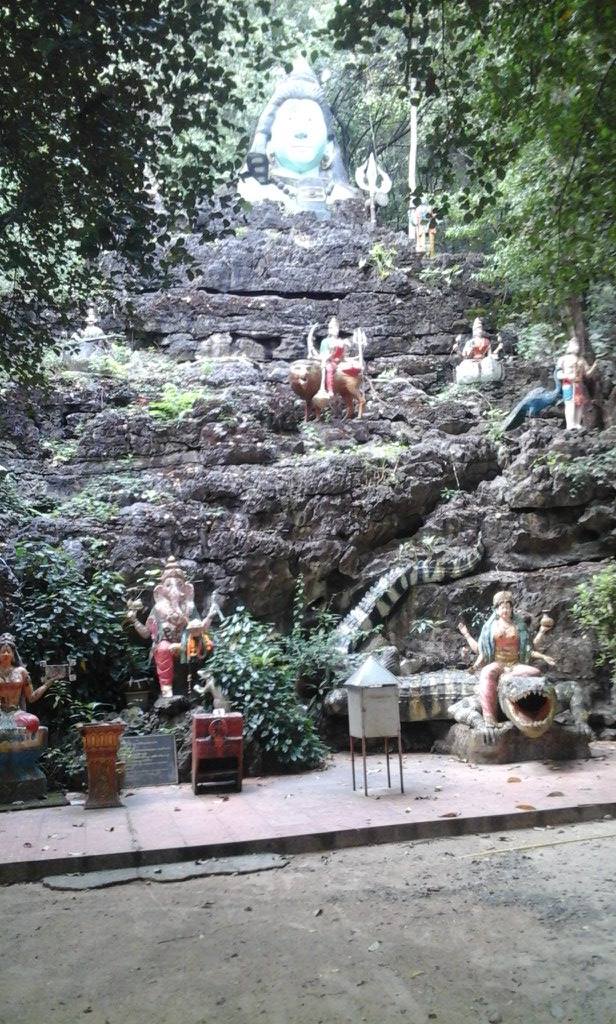 .
First of all there were all these random animal statues. I stared at them pretending to be an art connoisseur, slowly lifted my glasses and sighed "…Adequate…" Then I turned around and was greeted with could only be described as some people from a council estate on a stag do, complete with the messed up tongues…
.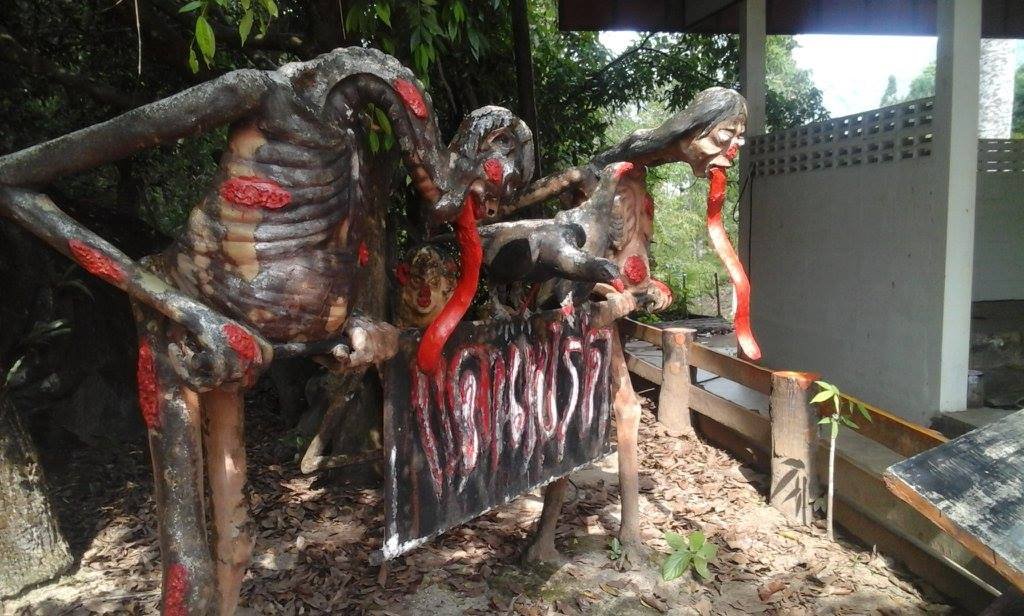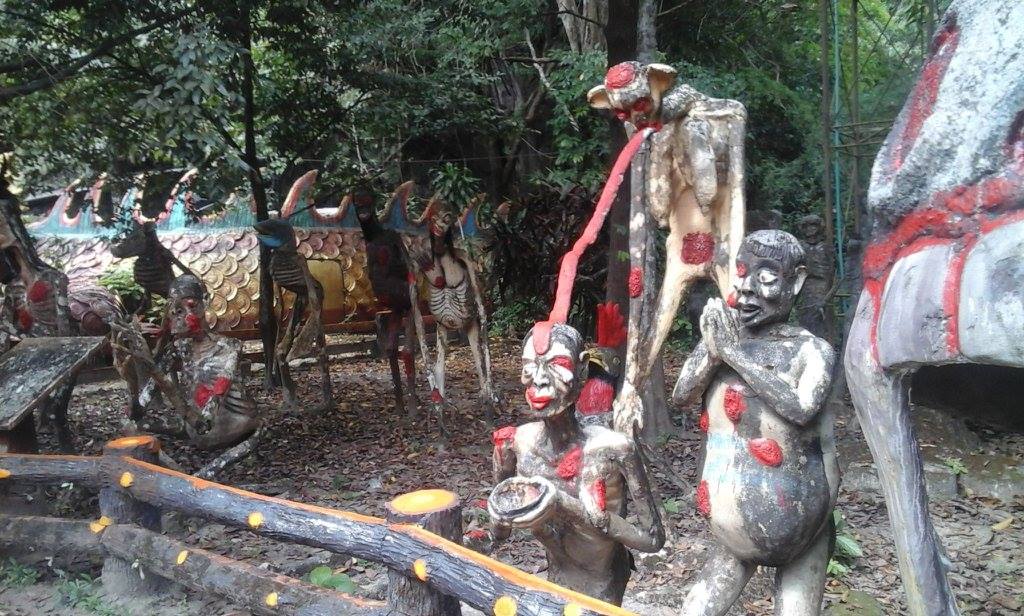 .
"This is what happens to you if you are naughty…" I could hear my mum telling my eight year old self. The statues seemed to be constantly begging for change. I muttered, "I DON'T HAVE ANY CHANGE!" Like Randy from South Park, giggled to myself and carried on walking to the left, where I was greeted with a beast of a dragon…

.
You could walk in and through the dragon usually, but that day the door was locked. At first glance it looks like there's a lady at the entrance but that was in fact a statue blocking the entrance way, which I thought was pretty cool.
.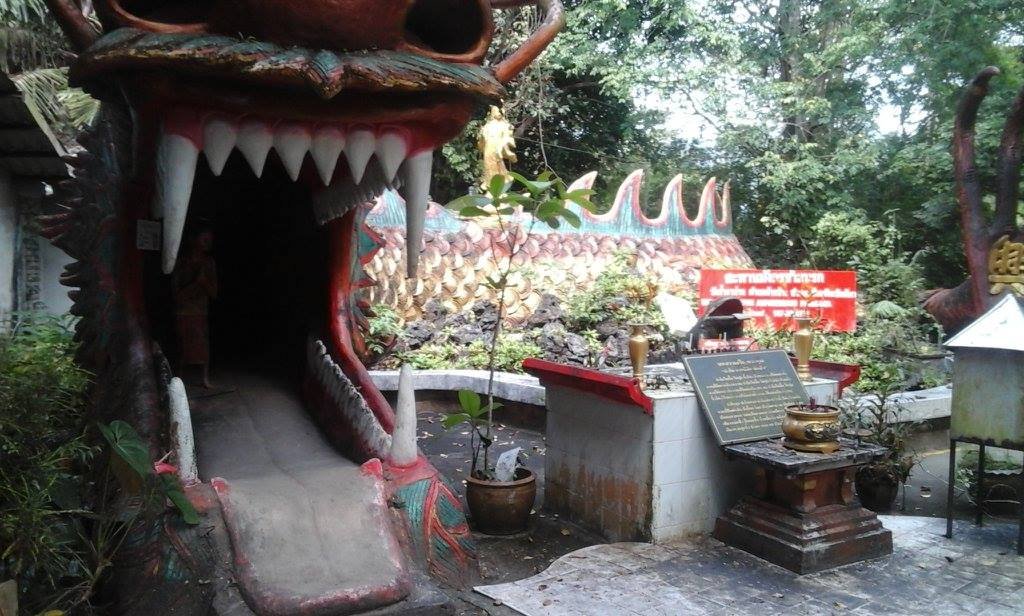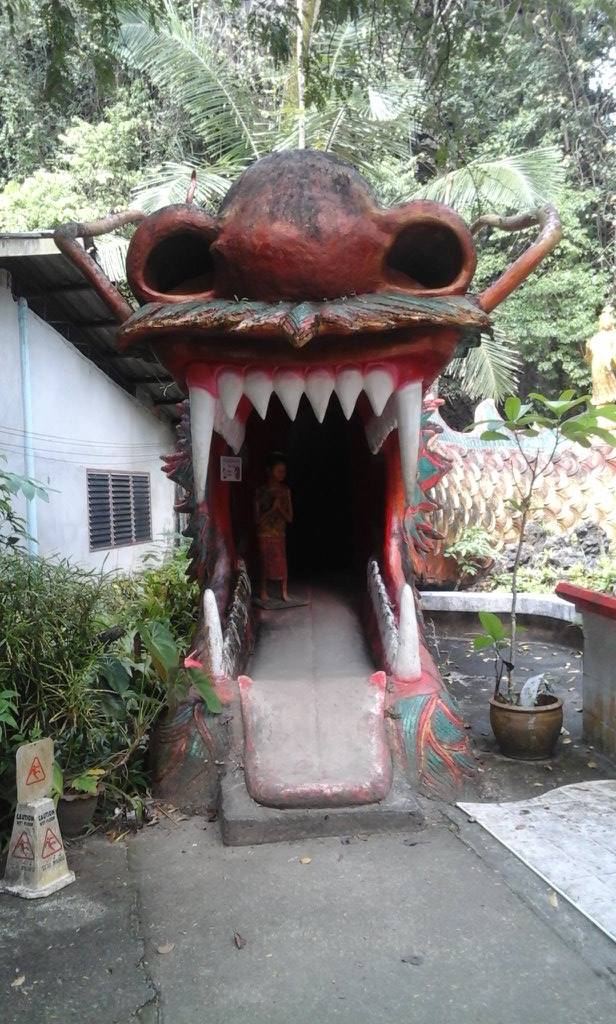 .
Finally I spent a good ten minutes exploring the rest of the temple. There was a big old Buddha statue with a smile on his face that suggested he was enjoying a bit of GTA, a mesmerising golden statue and a nice rock feature with various carvings and things.
.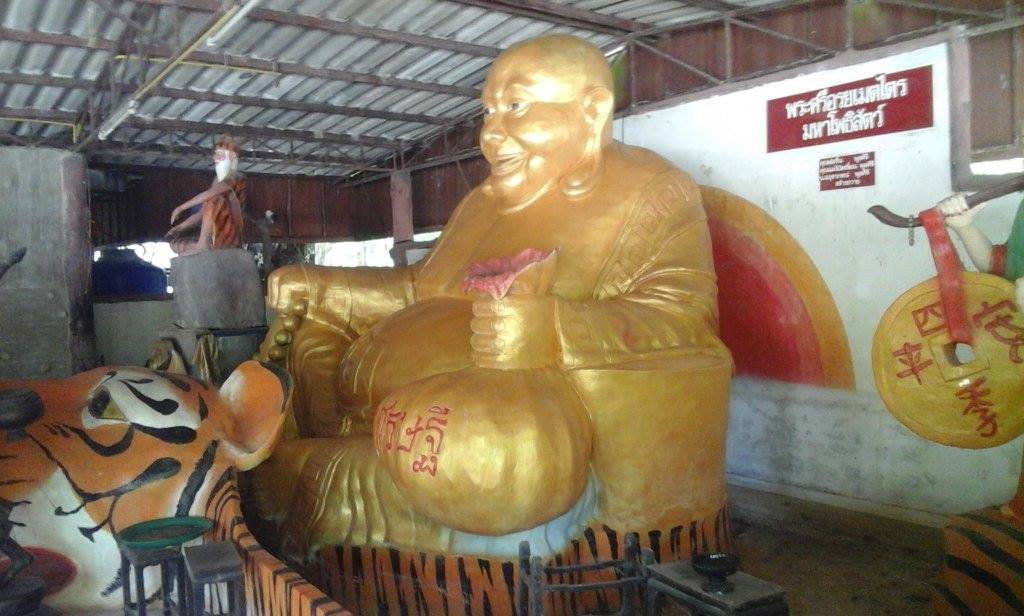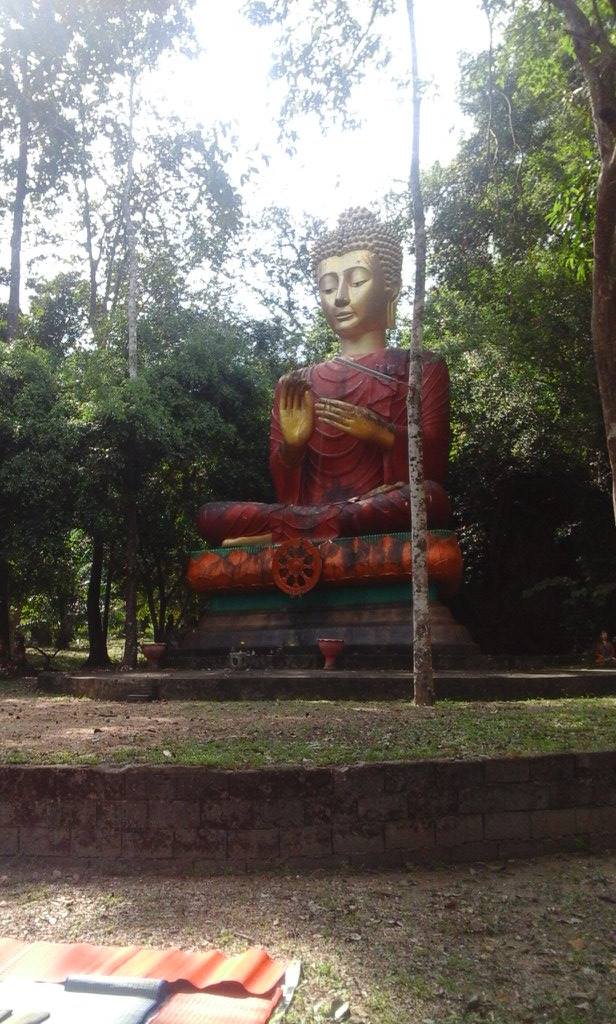 .
I left and grabbed some lunch. Again, the Thai people there were in shock when I spoke to them in Thai. I ordered a chicken fried rice with a fried egg on top and it was bloody huge! So big in fact that I only ate half of it. I normally eat quite a lot as well but this dish really defeated me, and for 50 Baht (£1) as well! Hopefully they gave the leftovers to the stray dogs and didn't throw them in the bin. I'd hate to think they wasted food…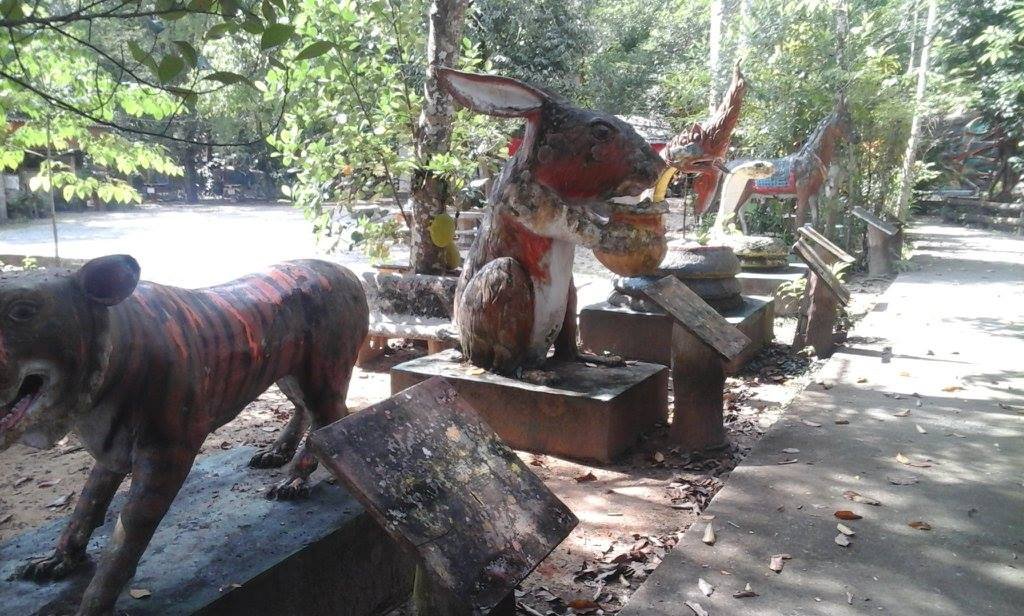 .
And that's it! My whole Phang Nga trip spread out into eight whole posts! I want to say thank you to my mum and stepdad for looking after me, and I did feel a bit guilty being spoiled for ten days straight. Hope to see you soon, whether it is back in Phang Nga or here in Chiang Mai…
.